04/27/2021 / By News Editors
---
Security footage taken from a neighbor across the street shows a new angle of the officer-involved shooting death of 15-year-old Ma'Kiyah Bryant.
(Article by Christina Laila republished from TheGatewayPundit.com)
The police bodycam footage released by the Columbus mayor showed Makiyah Bryant attempting to stab someone as the officer acted swiftly and opened fire, fatally striking her.
The Columbus officer rolled up on a chaotic scene and had no choice but to discharge his weapon in order to save lives.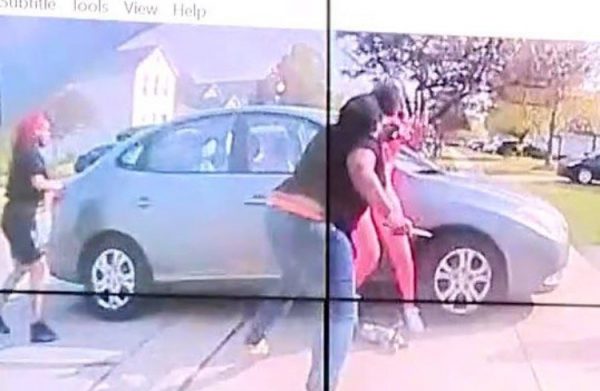 Ma'Khia's mother said she was loving and motherly.
The neighbor, Donavon Brinson, gave his security footage to police and said if not for the officer's heroic act, more people would have died.
The Daily Mail reported:
Ma'Khia Bryant's military veteran neighbor has said his home security camera footage proves Columbus Police Officer Nicholas Reardon had no choice but to shoot the black 16-year-old because more people could have been killed if he hadn't acted.

Donavon Brinson told Fox News Thursday morning he believes Bryant could have fatally stabbed the young woman she was seen lunging at with a knife if the cop hadn't opened fire in Columbus, Ohio, Tuesday afternoon.

'He could have either not fired and the young lady in pink could have been stabbed in the neck and brutally or fatally injured and then he could shot [Bryant] and we could have had two [young women] dead – or he could have responded in the way that he did and one young lady lost her life,' he said.

His comments come as a second neighbor said he believes police bodycam footage shows Bryant was in 'full attack mode' and 'needed to be stopped' because a 'young lady's life was at stake'.
The new angle shows the Columbus police officer immediately trying to deescalate the situation before firing his weapon.
Ma'Kiyah Bryant could be heard screaming, "I'm gonna stab the f*ck out of you, bitch!" while attempting to stab two unarmed people.
Video of new angle of police shooting of Ma'Kiyah Bryant:
Read more at: TheGatewayPundit.com and Truth.news.
Submit a correction >>