---
The Biden White House on Wednesday night walked back inflammatory claims from the president that he saw "confirmed pictures of terrorists beheading children," admitting to the media that "US officials and the president have not seen pictures or confirmed such reports independently."
(Article by Chris Menahan republished from InformationLiberation.com)
"The president based his comments about the alleged atrocities on the claims from Netanyahu's spokesman and media reports from Israel, according to the White House," The Washington Post reported. "In response to questions from The Post, an Israeli Defense Forces spokesperson declined to comment on the state of victim's bodies."
Biden spread the hoax to the entire world on live television only to have a spokesperson walk it back hours later with a few lines to the media.
The story is being used as atrocity propaganda to justify Israel's indiscriminate bombing of Gaza's young population.
Business Insider reported Wednesday that the Israeli Defense Forces said they won't back up their claim that Hamas decapitated babies in Israel because it is "disrespectful for the dead."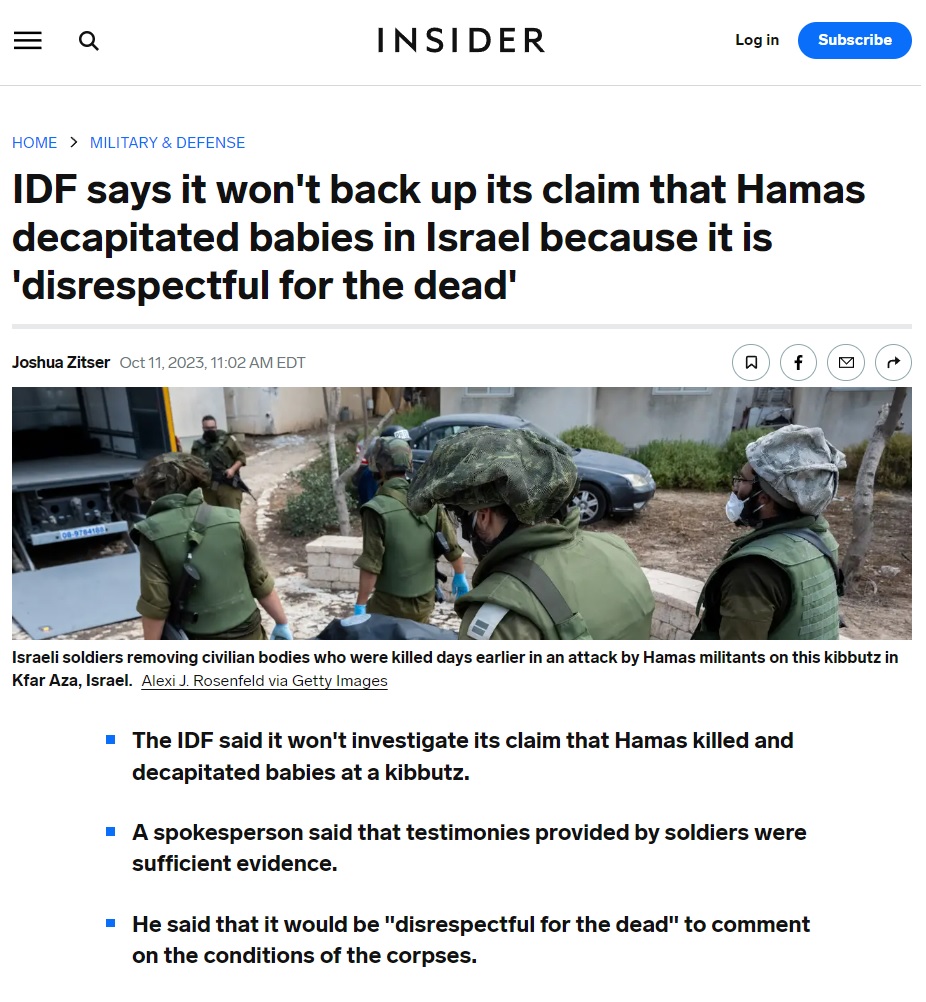 From Business Insider:
A spokesperson for the Israel Defense Forces told Insider that the military won't seek further evidence for its claim that Hamas decapitated babies in Israel.

He said it would be "disrespectful for the dead" to do so.

The spokesperson, Major Nir Dinar, was responding to widespread criticism that the IDF had spread a sickening claim about its enemies without demonstrating that it was true.

On Tuesday, Dinar told Insider that babies' bodies had been found at the Kfar Aza kibbutz, and that some had been decapitated.

[…] "We're not going to investigate the condition of bodies and even if we did we won't comment publicly about the condition of our civilians's bodies. And babies," [Dinar said].

In a phone call, he said he would not "give away numbers" of the number of babies.

"The war crimes that Hamas committed are obvious to the world and are seen in the world and I don't need to provide any proof of that and I'm not going to," Dinar said. "It's disrespectful for the dead."
The original claim was reportedly traced down to "settler extremist" David Ben Zion, Deputy Commander of Unit 71, who "incited riots" to "wipe out" a Palestinian village.
Ben Zion told i24NEWS that Hamas militants "cut head of children, cut head of women."
David Ben Zion "happens to be an extremist settler leader who incited violent riots against Palestinians in the occupied West Bank earlier this year," The Grayzone reports:
Hours after his interview with i24, still in the village of Kfar Aza, a uniformed Ben Zion could be seen repeatedly grinning ear-to-ear in a video posted to his Facebook – an odd disposition for a supposed witness to the methodical butchering of babies.

[…] David Ben Zion, is a leader of the Shomron Regional Council of 35 illegal West Bank settlements who called this year for the Palestinian village of Huwara to be "wiped out."

"Enough talk about building and strengthening the settlements," Ben David said in a Twitter post on February 26, 2023. The deterrence that was lost must return now, there's no room for mercy."

Ben David was quoted in Israeli media proclaiming soon after, "The village of Huwara should be wiped out, this place is a nest of terror and the punishment should be for everyone," a clear call for the collective punishment of Palestinians.
Ben David's tweet was 'liked' on Twitter by Israel's-then Finance Minister Bezalel Smotrich, a move which prompted 22 legal scholars to call on the Attorney General to open an investigation into the official for "inducing war crimes." When Smotrich later echoed Ben David, calling to "wipe out" Huwara the following month, the US Department of State condemned his rhetoric as "dangerous."

The village of Huwara was at the time the target of violent rioting by settlers operating under Ben David's watch. Following the settler assault on the town, which resulted in the torching of scores of homes and vehicles, as well as injuries to locals, Hamas characterized the attack as a "declaration of war."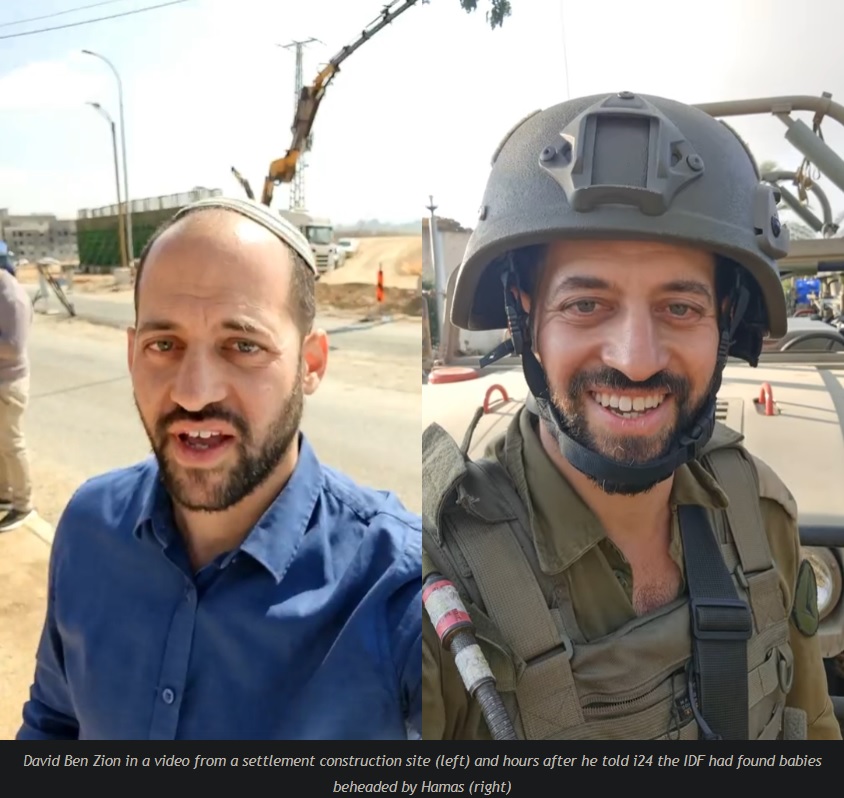 But Ben David's call for collective punishment in Huwara was far from his only genocidal imprecation against Palestinians. Indeed, he has used his social media accounts to repeatedly call for war crimes as well as the "deportation of the [Palestinian] masses."

"The Palestinian people… [are] an enemy," Ben David wrote in 2016. "We can't change their barbaric DNA."
Read their full report.
We're witnessing a repeat of the lies and disinformation which scammed America into the war in Iraq two decades ago with most of the exact same political actors involved!
Read more at: InformationLiberation.com
Submit a correction >>